What day of the week is this? Take a few days off work and I'm totally disoriented. That's fine though, I have been relaxing, catching up on projects, going for a hike today, and just enjoying not being at work. The pups have been enjoying the fireplace a lot the last few days with the chilly weather.
Christmas was great, we had a successful and fun family gathering at my sister's house on Christmas Eve and one at our house on Christmas Day. And now I'm enjoying some downtime after to relax, organize, and catch up on projects. And get back to a healthier place after rich eating, yikes.
There was a lot of rich eating on Christmas Eve, we had vegan pesto pasta, loaded salad, lentil stew hubby made, veggies and hummus, vegan chocolate cake my sister made, and Almondaire Vegan Creme Liqueur. The kids watched the Google Santa Tracker, the adults drank a lot and had a lively white elephant gift exchange.
It's been so long since I've had any creme liqueur that I'd forgotten how strong it could be, whew. But it was also delicious and we had a great time.
Christmas morning hubby and I got a lazy and slow start watching Miko open his new toy and playing with our gifts. My big gift was a new HP Spectre laptop! And it's gorgeous with a nice touch screen and insanely great battery life compared to the hand-me-down 2011 MacBook Pro I was using for traveling. Between that and a new desktop PC this year, I have a lot of PC power for blogging in 2019!
Because we were hosting the Christmas Day gathering at our house, I decided to keep breakfast simple when I found Van's Power Grains frozen waffles and good, real maple syrup at Grocery Outlet. Hubby pan fried Lightlife Vegan Sausage to go with them which were delicious for being fat free and low calorie. We actually do not have a toaster, got rid of it years ago I think after not using it, but the frozen waffles were great heated in the air fryer.
And it was a simple enough meal to clean up after and get mad cleaning done on the house to prepare for our guests. Hubby did an amazing job preparing vegan lasagna with Explore Cuisine Organic Lentil lasagna noodles, tofu ricotta, and Beyond Meat Crumbles loaded with eggplant, mushrooms, and zucchini. Miko loved the company and played musical laps visiting with everyone. Poor guy was tuckered out after all the excitement.
There was a little drama – we got Leela new teeth cleaning treats for Christmas since she is not into toys and she loved them too much and ate too many I think and threw up a lot, as in how could all that come from a small dog? All over her bed that I had to clean up before anyone saw. I spent the day after washing all the beds and she seems to be fine now.
It was a great Christmas, tons of fun and time with family. The day after I got in an easy outdoor 4-mile run and got to the gym yesterday for a more intense run and weight session.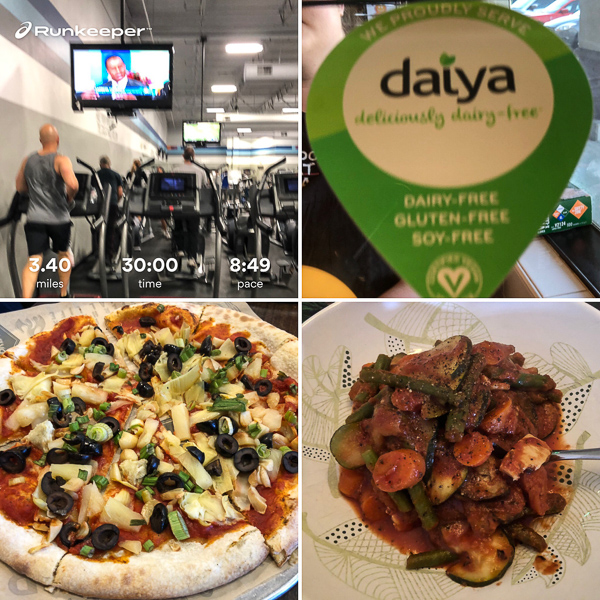 The gym was surprisingly packed for a weekday, I guess everyone was taking a little time off and had the same idea. After I met family at Blast 825 Pizza for lunch before a little shopping. I love these custom pizza places because they are perfect for large groups on various diets such as vegan me, my gluten free sister, nephew with a nut allergy, and very picky father – everyone can make they're own personal pizza creation and I love that they serve Daiya vegan cheese. I went for a lighter pizza with just sauce and veggies after holiday eating and it was delicious and not overly filling with a thin crust.
I kept dinner last night lighter too with sauteed tofu and veggies in a simple tomato sauce. Filling, but not heavy.
How was your Christmas?