Ah, getting closer to the long weekend and I'm ready. Shadow is hanging in there, he seems stable and has his follow up vet appointment tomorrow.
He's started playing catch-me-if-you-can when it's pill time which is a time consuming game when I'm trying to rush out the door in the morning. Thankfully he seems to like his pills stuffed into a treat and will come running when it's "treat time." He's still skinny, but his energy levels seem normal and he's been very affectionate so we're keeping our fingers crossed.
It's Wednesday and I can actually participate in What I Ate Wednesday today.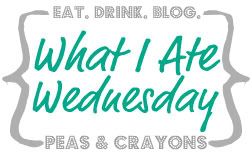 Breakfast was an interesting smoothie of orange, frozen pineapple chunks, kale, carrots, stevia, chai tea,
Garden of Life's Raw Protein Powder
, and a serving of
Vitamineral Green powder
.
Interesting because I was desperately running out of fresh fruit and had to get creative and it wasn't bad!
Lunch was a major splurge from the Whole Foods salad bar.
After work I restocked at Costco and sampled organic hummus, vegan bean salad, and corn chips for a snack.
I thought I was smart thinking that Wednesday nights are usually blissfully quiet at our local Costco, but failed to factor in the 4th of July this weekend because everyone was stocking up early at Costco today! But I discovered a new organic raw vegan protein powder in the supplement department to try for smoothies that was a good price per serving – Orgain Organic Protein Powder in Creamy Chocolate Fudge!
I was drawn to it because it's a blend of organic brown rice protein, organic sprouted chia seed, organic hemp protein, organic pea protein – many super plant proteins in one simple powder. And Costco had it for a great price compared to online – nice! The powder looks and smells a bit like a certain favorite childhood chocolaty drink, yum.
For dinner I had another salad. I know, but I seriously do not get tired of them. Especially when covered in creamy nacho avocado dressing I whipped up in the Vitamix!
Miko provided the dinner entertainment tearing all over the house going after a house fly.