It's been awhile, so I figured it's time to participate in What I Ate Wednesday!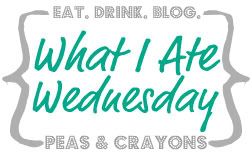 I started the morning with 2 cups of coffee with almond milk and
NuNaturals
powdered stevia while I flipped through
Peas and Thank You
for recipe inspiration for hubby's birthday celebration this weekend.
Mornings tend to be a little hectic for me lately as I feed three hungry dogs, give one an insulin shot, clean up messes, get ready for work, pack a gym bag, and make a smoothie to dash out the door with at 7am. I keep reminding myself I should get up earlier to have more time in the morning and sometimes I do, but that's been tough lately. This morning I made a monster smoothie to go with Garden of Life's Raw Protein powder, Nutiva Organic Chia Seeds, frozen banana, orange, carrots, ginger, and kale.
After a crazy morning at work, I met hubby for a relaxing lunch at Baagan and got kale chips and the salad trio plate with a tasty black bean quinoa mixture, asparagus with a creamy cilantro dipping sauce, and salad with mango jalapeno dressing.
I had an organic apple for an afternoon snack, I take apples into work every day for a snack either before or after lunch.
After work I ran by Whole Foods to grab recipe ingredients for the weekend and hit the salad bar for a simple salad for dinner with arugula greens, black beans, broccoli and plenty of other veggies.
It was not a cheap day for me, unusually expensive in fact. My normal weekday lunches are leftovers and dinners a simple recipe. But the last few weeks have been a little crazy and I was ready for simple convenience today!