It's Wednesday, so happy What I Ate Wednesday!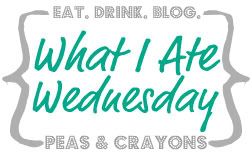 I had my usual smoothie to go for breakfast which consisted of a scoop of
Garden Of Life's Plain Raw Protein powder
, a banana, an orange, chunk of fresh ginger and beet, carrots, kale, and cinnamon.
For lunch I went to a work baby shower/pot luck that I wasn't entirely looking forward too. But I knew the co-worker well enough that not-going seemed rude and there were a lot of guys at this shower and no silly games. I threw together a chilled Dijon dill pasta salad last night using organic wheat pasta. I'm not usually a make-pasta-at-home type gal, but I had an extra package in the pantry from hubby's birthday weekend and it seemed like an appropriate spring potluck choice.
There was actually a decent vegan selection between my pasta salad, corn chips, a black bean corn mixture, and a strawberry-walnut salad, my plate was very pretty. There was also way too much food at this potluck with tons of not vegan-friendly options also, so I have a lot of leftover pasta salad to do something with.
When I got home from work, I was starved and snacked on some Bare Fruit Apple Chips while preparing dinner for three hungry dogs.
Skipper let me know I could hurry up and serve his V-Dog!
After a weekend of rich eating and a stressful week so far, it's all about salad and lots of veggies this week! And I experimented with a new salad dressing for a dinner salad that was a success. I'm a huge ginger fan, I love throwing raw chunks into my smoothies and using it in raw recipes. I also adore Asian ginger dressings and created a creamier version using hemp seeds for a smoother and heartier texture.
Creamy Ginger Dressing
1/4 cup shelled hemp seeds
1 large or 2 small carrots, chopped
2 tbsp. white miso paste
1 tbsp. apple cider vinegar
1 tbsp. agave nectar
1″ thick chunk of fresh ginger
2 tsp. toasted sesame oil
1/2 cup water
Place all ingredients into a high speed blender and blend to a smooth and creamy texture. Makes 4 servings.
The color is a light and vibrant orange, perfect for spring.
And it blended into a kale salad nicely adding flare.
The dressing has a strong and tangy Asian gingery flavor balanced with sweet and savory from the sesame oil and carrot.
I'm already looking forward to leftovers for lunch tomorrow.