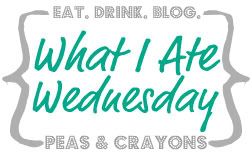 Wow, I actually remembered to snap pics for
WIAW
today! I'm surprised considering how this week has been going at work – anything buy quiet as the weeks between Christmas and New Year's have been in the past!
Breakfast: My usual weekday smoothie-to-go packing Sunwarrior Ultimate Chocolate Protein Protein powder, a heaping spoonful of Vitamineral Green, frozen banana chunks, 2 carrots, kale, a few drops of stevia, and raw cacao powder.
Lunch: Leftover lentil stew and a big bowl of popcorn spritzed with olive oil, Braggs Liquid Aminos, and nutritional yeast.
Snack: 4 mini oranges swiped from our backyard tree and 3 dates.
Dinner: Since I was flying solo tonight, I made my ultimate comfort food – a monster, messy salad dressed with the hemp curry sauce from Kristen Suzanne's Hemp Recipe book with enough servings for a couple of work lunches.
Not exactly exciting, but a comforting pre-run nutrient boast after a long day was nice.
And so were the Candy Cane Dessert Balls I enjoyed right out of the freezer for dessert.
Now I'm gonna wrap up the day with a therapeutic 3-mile run, ab workout, and a bubble bath.