I've finally decided to participate in What I Ate Wednesday.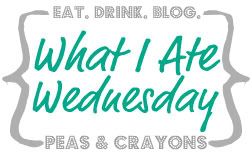 It's not easy taking pictures of everything I ate on a work day! Obvious from my half awake picture of my breakfast smoothie.
Breakfast
Hemp protein powder, a banana, kale, two small carrots, chia seeds, and some alfalfa sprouts in a neat smoothie to go. It disappeared fast on the drive into work this morning.
Lunch
Salad leftovers topped with nutritional yeast and hemp seeds with homemade kale chips.
And some popcorn with a little garlic olive oil and salt while I dived into an issue of Vogue.
Truthfully flipping through clothes I would never wear kind of bored me. How often do you see women in public looking like this?
Then I came across this inspirational article about a mother-daughter running team, Ida and Shelly Keeling.
Ida is 96-years-old and picked up running at 67-years-old! How cool is this?
I love inspirational stories like this that prove you're never too old to pick up a new hobby and reinvent yourself.
Snack – Apple at work. Sorry, no picture. I was juggling a few calls and issues at work while snacking. :-)
Dinner
I scored a lot of free tomatoes from a friend's garden today and they needed to be used up pretty quick.
So I threw them into the food processor with other ingredients for a hemp seed marinara sauce and let hubby do the rest.
While I chopped into a another garden freebie, the mutant pumpkin/spaghetti squash I got from my dad.
Chopping into it was no easy task! I had to switch between a few knives to saw into it and wedge it apart.
Rind of steel! Inside it looked more like a pumpkin than a spaghetti squash. I seeded and ghetto-steamed the halves in the microwave for 10-minutes cut side down on a plate of water.
Then served the halves loaded with the fresh raw marinara sauce.
The squash was good, it had a spaghetti squash-like texture, but a mild pumpkin flavor – kind of trippy. But I was a little disappointed it wasn't a full-blown noodle-like spaghetti squash.
Then we dived into a huge bowl of chopped watermelon for dessert.